Job Crisis and Ways to Reduce Unemployment in India – A Long History!
The unemployment problem is common nowadays during this period of a job crisis. During COVID-19, no one could see any way to reduce unemployment in India that rose to 27.11% in a single week. 
In 2022, as per the International Labour Organization Report, the unemployment rate rose to 7.8%, leading to a maximum speed of 23.5%.
There are different types of unemployment, such as structural unemployment, where you may get trapped in the long-term effects of unemployment, like health problems, adverse familial effects, reduced or no income, etc.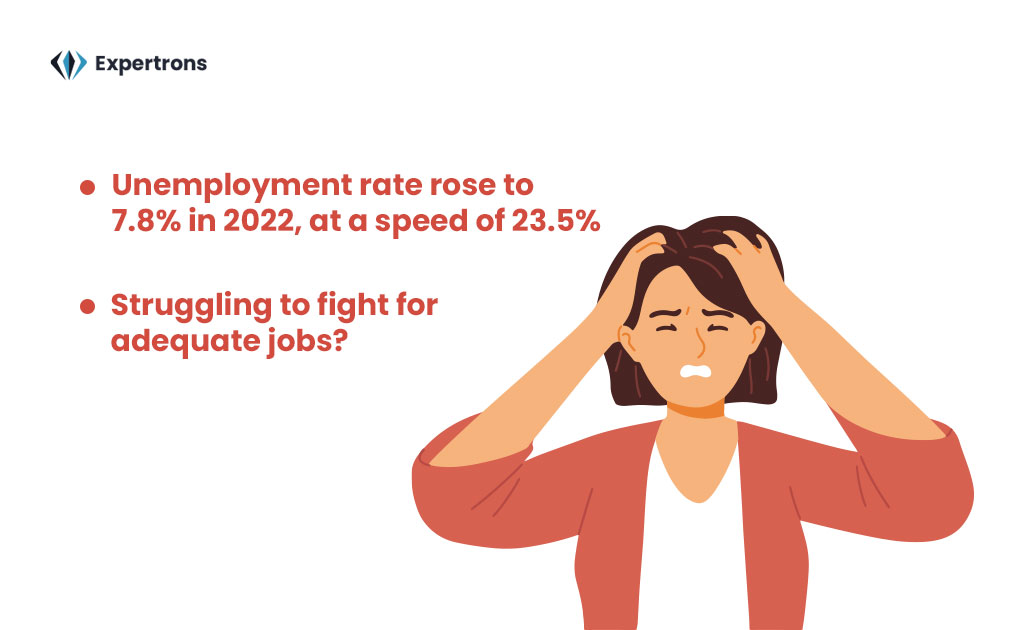 Being the world's largest videobot-assisted platform for job-seekers, Expertrons is India's No.1 Edtech Company that provides a placement guarantee to aspirants.
We ensure that the individual does not get trained like a coaching centre and then left on his own. Since the companies focused on a particular domain during the recession, it became one of India's major causes of unemployment. 
And what's more?
Our flagship training program provides exclusive domain-specific practical training to aspirants to prepare them for interviews with top companies in India!
Usually, you miss out on one or the other skills (either soft or hard skills), which may not seem important but are must-haves in an interview. You can gain those skills at Expertrons to acquire the skills needed to land in big companies.
So, how confident are you that you possess all the skills which will land you in good company? Why not take an assessment to check what skills you have and which ones you lack?
Click Here – Asses your skills to know how far you are from table of unemployment in India
Domain-Specific Training – Does it ensure a 100% job guarantee?
Whether you have experience or not, we don't judge our aspirants at Expertrons. Our domain-specific training prepares aspirants to face that challenging path of landing a dream job by helping them acquire extensive practical skills.
What's the benefit of working with us? Yes, it is the assurance of a 100% job guarantee. Even if you feel under-trained, we have covered you with Expertrons PRO.
One-Stop Solution to beat Unemployment – Expertrons PRO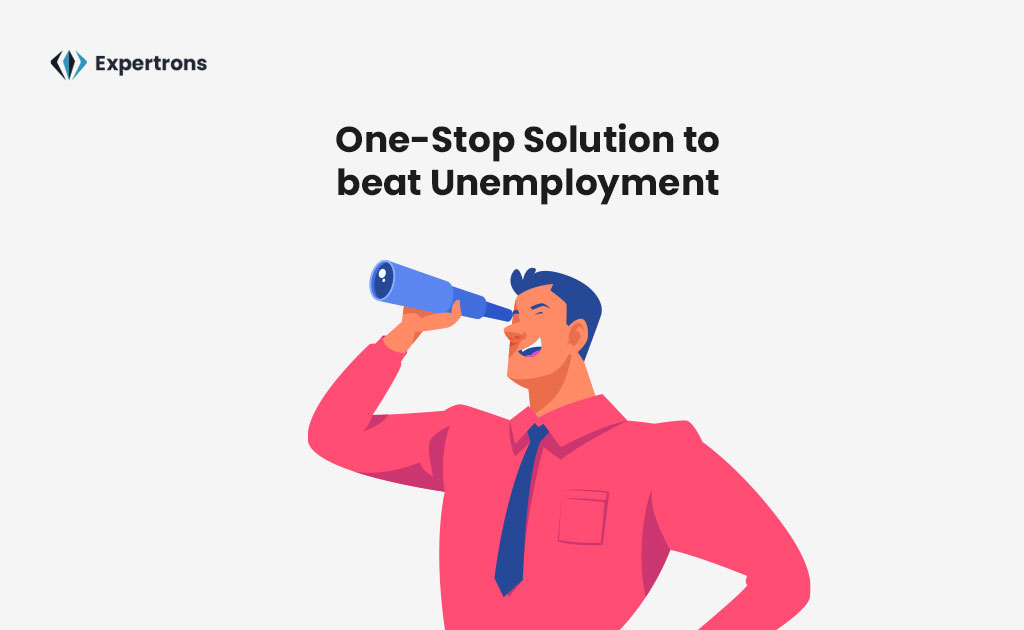 We suggest that we will make the individual' pro' in the individual skill and help them access world-class resumes and expert interview training, which will help them guarantee success in getting that dream job.
Click Here – Get a 100% placement guarantee with Expertrons PRO
Unlike other programs in the market, we provide hand holding to the individual in our training, which is focused on placements too, be it candidate evaluation or recommended referral expert.
Highlights of Expertrons PRO:
Soft and Domain Skills Training –Through 1:1 expert consultations, we provide extensive training, increasing the chances of getting a higher salary
Community of 6000+ Experts – As a part of our flagship training program, we provide a full candidate evaluation from our leading industry experts
Access to 4000+ Hiring Partners – We provide referrals to our aspirants to help them get into top companies across the country
100% Job Guarantee – We have a track record of job placements where the candidates achieved the highest salaries in their fields.
With a community of more than 3.5 lakh candidates, we provide domain skills training via our capstone projects to open a road for exponential growth, along with job referrals and reach-outs.
We ensure that our candidate gets placed in a job at a handsome salary via our effective skill training sessions.
Key Takeaway 
Being a job seeker in a period of job crisis is not easy. So, do not miss the chance of getting a surety of 100% placement into a company and take a giant leap from being just a part of the job-seeking crowd.