All you need to know about Human Resource Management: An Ultimate Guide!
It is widely accepted that the role of human resources in an organization is indispensable. The importance of HRM is more than any other position in the company for the smooth functioning of the organization.
Have you ever thought about why Human Resources are important in an organization?
The answer is in their functioning and the job role. Some of the crucial functions of human resource management include the recruitment, training, and development of employees.
Meaning & Key Roles of Human Resources
To carry out the roles and responsibilities of HRM effectively, you need to learn not just one but several different skill sets and their execution so that the company can operate efficiently without compromising its quality.
To begin with, let's understand the meaning of Human resource management in detail.
What is the definition of HRM?
"Human resource management, or HRM as it is more commonly known, is a management process that deals with the workforce. This includes employee recruitment and training, performance management, career development, and succession planning. All these steps are vital for any organisation's success."
Suppose you are looking for a role in human resources. In that case, you must be aware that one of the critical functions of human resource management is providing support and services in all employee matters.
What are the key roles and responsibilities of HRM?
Some of the fundamental human resources roles and responsibilities include
Staff recruitment
Training and development
Employment law compliance
Payroll processing
Performance management of employees
How to land your first job as a Human Resources Manager?
There's a lot to handle when you take up the role of hr department. From the very first day, people in the HR department are supposed to use their communication and networking skills with the employees in the organization.
Those unable to implement various types of human resources skills face difficulty carrying out the position!
Whenever there is a lack of adequate skills required to be an effective HR, it becomes quite difficult and discouraging, especially for a beginner, and they start doubting whether they are the right person to carry out the HR role and responsibilities.
To avoid such a situation, getting a certification is the right thing to do to develop the right set of skills.
Enter the booming field of Human Resources with Expertrons
If you are looking for a career in the HR field, you must consider a Foundational Certification in Human Resources that can help you gain the relevant skills and knowledge required to manage all the vertical and horizontal areas of the organization.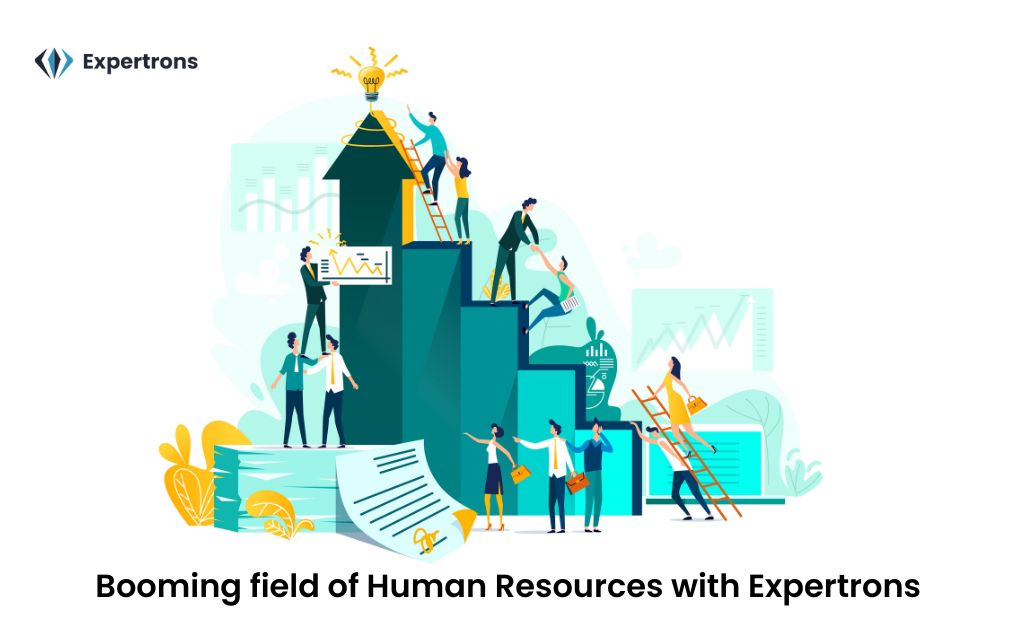 Expertrons are dedicated to ensuring that you get the right training under the proper guidance regarding industry learning.
Click Here: Succeed in Human Resources with Expertrons, get access to career hacks for a successful career.
Key Highlights of Program:
Expertrons' Foundational Certification Program provides domain-specific training from the best experts in the Human Resources industry.
This helps you learn the job-relevant skills required to effectively carry out the role of human resource management.
The program explores the concept of HRM, and its place in the modern corporate world and explains its ever-expanding functions, roles, and branches.
The candidate will be able to shave the areas of Social Media Recruitment, JD Preparation, Metrics & Analytics, Compensation & Benefits, Onboarding Management, Training & Development, etc to have a grasp on their importance in today's working environment and how they relate to other functional departments such as Human Resource Management.
The focus of this program is gradually introducing the Pre-Employment Stage, Employment Stage, and Exit Stage so that learners are well prepared for the professional employment arena.
The candidate will earn the certificate after completing the modules, quizzes, assessments, and assignments
If you want to carry out the HR role and responsibilities effectively, this certification will help you achieve that!
Most corporations require that someone do this job with professional experience in different types of human resources.
Skills required to be an HR professional
To become a successful HR, you must take into account the below-mentioned skills, especially if you are looking for careers in human resources – Event Organizing – For employee engagement, the role of the HR department is to organize various events such as parties, pieces of training, fairs, and so on.
Communication – One of the core competencies of HR is communication. Whether an interview or conflict resolution, HR is the critical communication link between employees and organizations.
Analytical skills – Extreme accuracy, thoroughness, and attention to detail are required for maintaining reports – when payroll and interview performance sheets.
Administrative skills – Good organizational skills are essential to maintain various information such as payroll information, health data information, performance report, fines, etc.
Click Here: Upskill with Expertrons & sign up to get career hacks to achieve career goals
The Bottom Line
For HR professionals, even the sky is not the limit!
All you have to do is place one foot forward in the right direction and keep moving forward until you achieve success. Remember that your efforts will not be vain because your skill set will take you to heights.