How to get a job in HR with little or no experience; A 2022 Career Guide!
'How to get a job in HR with little or no experience?'
This question is often asked by freshers and a few experienced candidates aiming for various types of human resources positions. Indeed, it is not a cakewalk to get HR job positions without any experience. However, careers in human resource management are not solely based on experience. Skills are based on that too.
Several HR positions in the job market may align with the highest-paying HR jobs in India. To be the strongest in your field, proper training is vital to gain domain-specific knowledge and skills required to grab those well-paid HR opportunities.
If you want to aim for a well-paid HR job as a beginner, then the Expertrons PG certification program will be the right fit for you!
Best HR certification course with 100% Job Guarantee
There is a vast scope of human resources management in any business. There are multiple HR job requirements since every other company is looking for HR for smooth control of their organization with the help of their human resources qualifications and skills.
Suppose you want to get the highest paying hr jobs in India. In that case, having a good HR professional certification from a reputed institution is essential since it highlights your human resources qualifications and skills and provides you with better career choices accordingly.
Under the Expertrons PG Certification programs, Expertrons provides HR certification courses for beginners having little or no experience.
Expertrons is the world's largest AI Videobot Technology, which helps in hiring and placements in business and educational institutions and provides ed-tech and career guidance services to their clients.
Click here: Get certified & land a job in Human Resources with Expertrons
Suppose you plan to start a designation in HR as a beginner, with either zero or little experience. In that case, certification will be an essential foundation to start your career in the domain.
Master the field of Human Resources with Expertrons PG Certification Program
HR certification is as crucial as getting a golden ticket to your dream HR career. Through this certification, you will be able to gain qualifications and skills that will ensure your placement in top companies. If you lack experience and skills, you should go for tried and tested certificates like the Expertrons PG Certification program to gain domain-specific skills.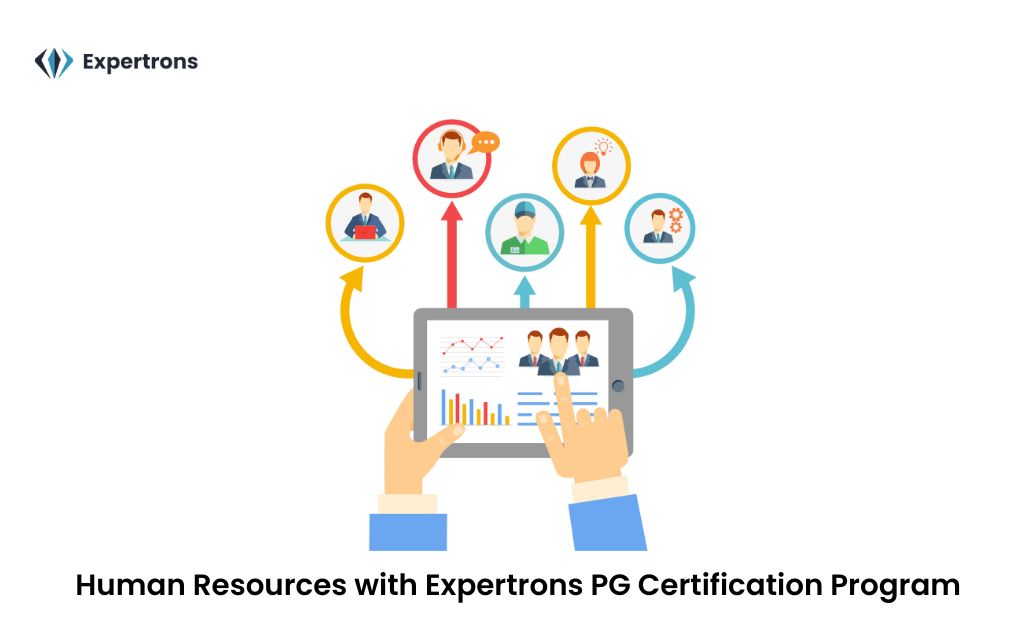 A degree or rich experience in the HR domain does not guarantee you a job in the HR field. Other things, such as referrals and proper interview training, can impact your journey.
It is vital to gain skills and knowledge which can help you stand out from the rest of the crowd even without a good experience. Expertrons PG Certification program can help you achieve those skills by opting for a targeted approach toward your goal and help you land your dream job.
What's next?
Sign up to master skills in Human resources & get 100K mins of career hacks for FREE
Expertrons, with its flagship training program aims to provide the career guidance you need to kickstart your professional journey. With 4000+ hiring partners, the program offers a 100% job guarantee* that helps you land your dream job in top companies.
Key Highlights of the Expertrons PG Certification course
1:1 Goal-Setting Training and Dedicated Support
Higher Salary with Soft & Domain Skills Training
100% Job Guarantee* & Job referrals in 4000+ Hiring Partners
Assured Career Growth with 6000+ Industry Leaders
Latest Industry Knowledge with Industry Capstone Projects
Career Counselling, Mentoring, and Technical Guidance
Bottom Line
Expertrons PG Certification course is the key for your highest paying HR jobs in India. If you want a solution on how to get a job in HR, this certification is the ultimate first step toward the ladder of success.
If you plan to dive into the HR Career, join the Expertrons PG Certification course now and be among the top professionals in the country.